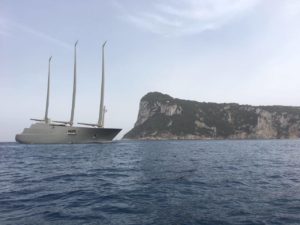 "SAILING YACHT A" is arriving today in Nerano. The brand new 143-meter-long sailing gigayacht owned by Andrey Melnichenko, has been built by Nobiskrug and designed by Philippe Starck. A unique exemplair built in Russia and representing the world's largest luxury sailing yacht. 
Melnichenko, after the stylish and super modern gigayacht "A" (119 meters), kicks off the new year by implementing the fleet and making a tour of the Mediterranean. For about a week it has been talked a lot about him, while the yacht was anchoring off Montecarlo. He has already made a stop in Sardinia and today he will be in Nerano for lunch and then head to Capri.
The cruise and cruise services on the Mediterranean coastline shall be taken care of by the "Luise" maritime agency. Set up in 1847 in Naples, today the agency boasts 170 years of activity with the appointment as international leader in yachting. The Capri tour shall be supported by the Capri Yacht Services team, which has been around for over ten years on the glamorous island of the Gulf of Naples, and which has become a reference point in the industry for luxury services, events and itineraries support.
Melnichenko will stay in the Gulf of Naples for the weekend, on board with his family, and then continue sailing offshore. "Sailing Yacht A" is worth about $ 460 million and with her 143 meters length overall is one of the largest superyachts in the world. The construction works began in 2012 in Germany and she was launched this spring in Gibraltar. Although the project was initially intended to be confidential, some photos of the so-called "White Pearl" have started to leak right away, already in the very early stages of construction. Sailing Yacht A has 8 bridges, an underwater observatory area made of glass, a helipad, a hybrid diesel-electric propulsion system. The visual impact is enriched by the three large masts built with a super lightweight, highly-resistant carbon fiber system, the highest one of which reaches the length of 91 meters. The yacht can accommodate 20 guests and a crew of 54 people.