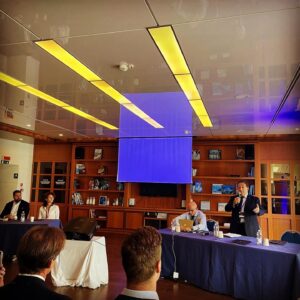 Over one hundred captains, international partnerships and discussion on the world of yachting and green policy, involving renowned boatyards and crew agencies. The congress organized by the Italian Yacht Master Association on the occasion of its 10th Anniversary in Loano, Italy, was certainly a very important opportunity for confrontation and opening to new synergies among industry players, in the presence of Italian brands, in many cases international leaders in the yachting industry.
"The Association was born with the aim of bringing together the best Italian skippers," illustrates Biagio Battaglia, President of the Italian Yacht Masters Association, "to create a group capable of training the new generations and direct them in the right way, to easily enter the yachting world and make their way with the correct training and aspire to important embarkations. I thank the historical Commanders who believed in this path from the very first steps such as Mauro Barletta, Maurizio Capitani, Luca Triggiani, Dario Savino, Luigi Cervetto, Manuel Mariotti, Riccardo Martinelli, Renzo Chelazzi, Carlo Summonti, Gabriele Malanca, Davide Sassi, Marco Bisconti and many others, the list is very long. I thank the founders and those who have joined over the years, believing in a project that aspires to consolidate the presence of Italian professionalism in the yachting world."
Captains who sail in international waters with superyachts of wealthy owners, from Armani to renowned foreign entrepreneurs, moving in a single month from the Caribbean to the Norwegian fjords to please wealthy personalities (from show business to high political circles), who rely on their command to experience exclusive itineraries in complete safety, in every part of the globe.
Respect, competence, hard work, seriousness and honesty are the guidelines that the Association follows in its training courses, workshops and meetings to direct new generations and to always remain true to its professionalism. And these are the guidelines recalled on the occasion of the Association's 10th Anniversary, opening the doors to the registrations of many young aspirants, ready to embark on the adventurous journey into the world of luxury yachting.