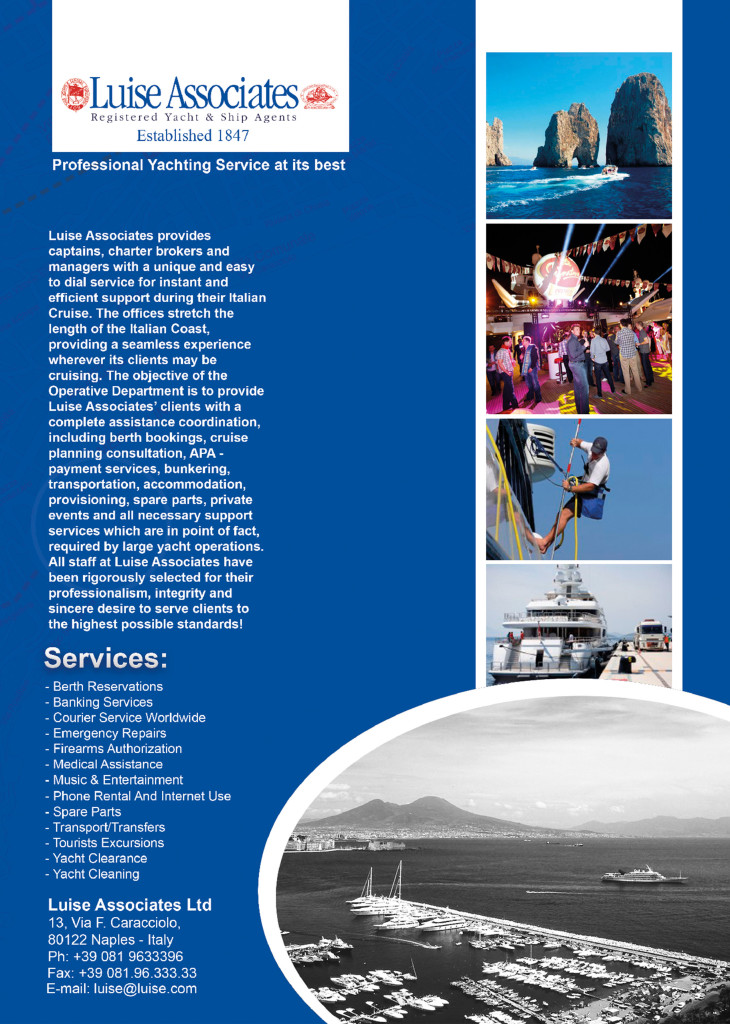 Luise Associates Ltd.
13, Via F. Caracciolo, 80122 Naples – Italy
Phone: +39 081.96.333.96
Fax: +39 081.96.333.33
Mobile: +39 348.38.68.538 (Mr. Francesco Luise)
Mobile: +39 337.97.43.15 (Mr. Massimo Luise)
E-mail: luise@luise.com or luise@luise.it
www.luise.com/
Interview with Francesco Luise Manager of Luise Group
Even actors, singers, sheiks, tycoons and politicians are slap bang in the middle of the sea, but there is "Luise Associate" who is going to take care of them! "Luise Associate", now led by Francesco Luise, is the historical company who is been managing the Port of Mergellina since 1847 and is being present in 275 ports around the world. The story began in 1847 when four brothers coming from the Port of Marsiglia arrived at Napoli in order to set up an empire: the "J.Luise & sons".
"The name is Anglophone due to one of the original founders, Joseph who realise that giving it this name he would have been able to capture the minds of the English and the French i.e. the vast majority of the fancy maritime tourism from the late 1800s".
Luise Associate is still keeping its promises, taking care of clients everytime.
"We manage for everything, start from calling a taxi when our clients will arrive at the airport, to the organization on board. Even provisions and exemption from administrative practices, sometimes even being a tour guide! After all we are talking about an high quality tourism".
A lot of Vip ask us for anything.
"I have been a witness to many strange cases! This summer we organised a synchronized swimmers exhibition in the sea of Capri in front of the Alicia Keys 120 meters yacht. Some clients ask us for blue parrot, grasses for the needs of the dogs and someone ask us for baby's nappies "Made in Japan". It could be absurd, but it is not. These are simply the needs of the Vip and we try to do our best anyway to satisfy their requests".
All of the employees for "Luise" ( about 100 in Italy ) work especially in the offices with their tablet and smartphone.
"We must be on call 24 hours per day. This is our success and the best is what the clients expect from us. They can get in touch with us through the Gps, whenever. I am put in mind of one day when a Russian financial expert, in the middle of the night, asked us for taking care of him due to a Sting concert at "Isole i Galli". We had to quickly book a stay in Naples to him. I put in mind of the first fax i recived, i was gobsmacked!".
Naples, a sweet but bitter pill as well.
"The Gulf is still attracting people from around the world. One is able to reach many places in few nautical miles as well as Ischia and Ischia thermae, Capri and all beauties on the coast."
The "Luise" grew up thanks to the clients as well.
"They ask us for following them everywhere. We made a company in "Sardegna" and then Venice, Trieste, Rome, Ostia, Sanremo, Viareggio and in Sicily as well as in 14 foreign countries, Croatia, Turkey, France, Montenegro, Miami, Antigua, Caraibi and Newport".
Very important results achieved about the 500 clients marked on the Gulf of Naples daybook.
"We are talking about some unity longer than 100 feets, from 33 to 160 meters. We cause a lot of work for everybody, such as taxi drivers, petrol pump attendants, mooring men, mechanics, restaurateur and more".
These mega yacht 1 million euro per meter ( without equipment ) are the best who can afford them.
"Recently, a famous Lebanese person rented two yachts for 4 millions euro. Very lucky people".
Almost all the Arabian Head of State put their trust in "Luise Associate". The world trade is changing, what is the way?
"The Anglo-Saxon dominated before. An English tycoon, Andrea Liveras got my favourite yacht, Rosenkavalier. Today are dominating the Russians and Arabians, but we are still moving to the Orient. People say that the Japanes hate the sea but if they come in this business, this could be a great target for us. Talking about superyacht, people know that yacht dimensions are increasing. People talked about super and mega yacht before; today people are talking about giga yacht more than 100 meters long".