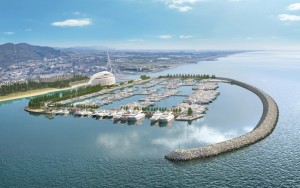 Designed by Architect Santiago Calatrava and Engineer Guglielmo Migliorino, Marina d'Arechi has been subject to in-depth meteo-marine studies, realised by the Research Institute HR Wallingford UK, to certify the resistance to the sea, the comfort at mooring, the compliance with the highest requirements of protection and security.
With 1.000 moorings from 10 to 100 metres and a water surface of 340.000 square metres, it is one of the largest marinas in the Mediterranean. Each mooring is provided with modern and efficient systems of energy, water and sanitation supply.
Its spaces and services for boating, leisure, fun and relax make Marina d'Arechi the perfect place for anyone who wants to experience holidays all year long.