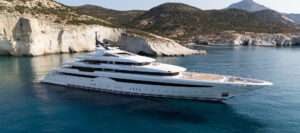 M/Y O'Pari, standing proudly in among world's largest and most prestigious Mega Yachts, represents without question the new flagship yacht of Golden Yachts.
M/Y O'Pari is equipped with resort-style onboard amenities and technical innovation, which are geared towards providing her guests an exclusive experience. Her exterior design is described by soft hull lines that give her a distinctive aerodynamic look.
At the same time her great interior volumes, tall decks, maximized efficiency, quality in the details are studied so as to please the most demanding client.