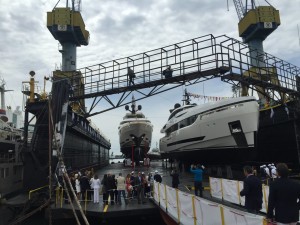 The port of Naples returns to be the word Capital of big yachts. Palumbo group has launched, after 30 months of work, two sea jewejs 'Made in Naples'. The boats have been realized by Columbus Yachts, an international brand in big yachts' industry. One of them is 57 metres long with classic propulsion system, the other one is 40 metres long with hybrid propulsion system, able to navigate by the propulsion of eletric engines.
Technology, respect for the environment, modern profiles and innovative design: these are the main features of Columbus, the first shipyard of the world looking at the future. The 40 metres boat launched in Naples can drive with zero emission and get the authorization to navigate in the marine parks. The interior is well-finished: every detail has been realized by craftsmen to make the two boats be the top of the boating in the world.
Palumbo Group and Columbus Yachts are two exceptions in a negative panorama, the Port of Naples, that is put under temporary receivership for several months, still waiting for a new president. These two exceptions are preserved by the Port Authority that prevented Palumbo family, allured by Messina, Malta and Marsiglia ports, to move out-of-town. 'Proudly made in Naples' was printed on workers' t-shirts. 'This challenge has been won thanks to the passion, the self-dunial, the extraordinay workers – Giuseppe Palumbo, managing Columbus with his brother Raffaele, said – We are proud of our employees and we dedicate our success to them'.
The workers, very touched, have attended the launch with their families. 'I haven't seen my children growing up because we were obliged to go to Viareggio to built the big yachts, travelling by night and working by day' – one of the workers said. 'Now, thanks to Palumbo family, we work in the port of Naples and we show what we are able to create'. The two boats were launched together, this represented an innovation in the Italian panorama and it was very appreciated by political institutions, mainly by the governor Stefano Caldoro. He remarked: 'The simultaneous launch of two boats, extraordinary innovative for the design and the technology, totally realized in the port of Naples by a Group coming from Campania and by our workers, represents a moment of pride for we all'.
'It has never happened – Palumbo commented – that two boats were launched in the same day by the same shipyard. It means that we are on the right path'. A path made of luxury, even the screws are precious on these boats. The two shipowners, maybe an Arab and a Russian but top-secret at the moment, will navigate on out-and-out floating houses'.