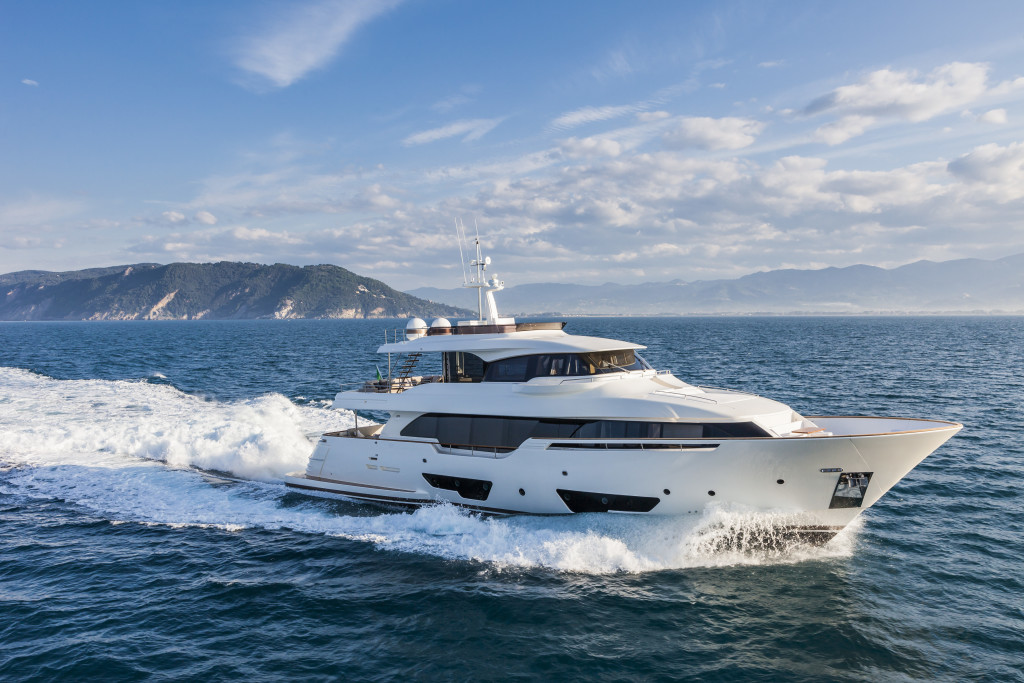 The Ferretti Group brand smashingly starts 2016, year of its 20th anniversary, by winning the first nautical award of the season
London, 12th January 2016 – If a good beginning makes a good ending, this 2016, when Custom Line
celebrates its 20th anniversary, is destined to become a long season of successes and awards.
And it couldn't be otherwise, when your fleet may include the Navetta 28, jewel of the brand's
semi-displacement series. In fact, this remarkable maxi-yacht has won the 2016 "Motor Boat Awards", the first of this nautical
year, held by IPC Media of Britain – the publishing house of some of the most famous European
magazines in the sector. The award was presented(given, delivered) to the Italian maxi-yacht during a gala dinner on
January 11th at London's Rosewood Hotel, as part of the 62nd edition of the London Boat Show, set
to continue until January 17th. The Ferretti Group is attending the show together with its exclusive dealer Ventura UK.
Custom Line Navetta 28 triumphed in the "Custom Yacht" category, where the other seven finalists
included some of the most important new crafts introduced by major international shipyards over the past several months.
It's an award of exceptional value, as borne out by the fact that each
yacht is professionally tested by expert journalists from the British publisher before it can enter the
"short list" of finalists and thus be eligible to win.
"We're really pleased to begin the year of Custom Line's 20th anniversary with this award that
honours one of our most important yachts – said Stefano de Vivo, Ferretti Group Chief Commercial
Officer. This is true not only because the prize was given in Great Britain, home of many of our most
important competitors and a country with a great nautical tradition and culture, but also because
it is awarded by a jury of professionals who choose the winner after an exhaustive series of sea trials
and after taking into account the technical, appearance and innovative features of each yacht.
This victory also highlights the effectiveness of the design and build strategy that Custom Line has
followed over the years, a strategy that has made it one of the most commercially successful
brands on international markets."
In this way, Custom Line Navetta 28 is continuing its remarkable run as the major player in its market
segment, which it has enjoyed since its début at the 2014 Cannes Yachting Festival. Indeed, the
Custom Line Navetta 28 has been successful on every market where it's been introduced.
From Europe to the Middle East all the way to Hong Kong, where the yacht debuted last October.
CUSTOM LINE NAVETTA 28
The semi-displacement maxi-yacht – built entirely in the Ferretti Group's production facilities in
Mondolfo (PU) – offers a host of new design, technological and appearance features.
An unmistakable outer profile and panoramic dining area on the upper deck, with a circular sliding
glass door system that enables this area – and the entire deck itself – to be used in a highly flexible
way. The broad sun-deck is a comfortable private deck that can be fitted with a Jacuzzi and an awning
upon request.
On the main deck, a continuous glazing stretches from bow to stern, and the lower deck features
four innovative hull windows at the height of the guest cabins, installed for the first time on this
model. An absolutely new innovation is found in the aft area, where the Dual Mode Transom (DMT), a
Ferretti Group patent, makes it possible to combine into a single system a floodable garage, a
bathing platform, and a beach club whose dimensions are unprecedented on any other model of
this size. Further innovation can be seen in the audio/video equipment, thanks to the "VOTIS" software
(Videoworks One Touch Infotainment System), which makes it possible to use an iPad to control the
on-board entertainment system and thus replaces all the remote controls for the various A/V
equipment in the main deck salon with one single device. The control system can even be
extended to the other areas of the yacht.
Performance-wise, the Navetta 28 is fitted with two MAN 1200 mhp V8 engines that propel it to a
maximum speed of 16 knots and a cruising speed of 13.5 knots.
In its standard version, the yacht is equipped with electro-hydraulic stabilising fins with "underway"
function and, upon request, with gyroscopic stabilisers.
CUSTOM LINE AND THE FERRETTI GROUP
Custom Line is a brand of the Ferretti Group, a world leader in the design, construction and sale of motor
yachts and pleasure vessels, with a unique portfolio of prestigious and exclusive brands: Ferretti Yachts, Riva,
Pershing, Itama, Mochi Craft, CRN, and Custom Line.
Led by Chairman Tan Xuguang and Chief Executive Officer Alberto Galassi, the Ferretti Group can boast
modern shipyards located across Italy, which combine the efficiency of industrial production with typical
world-class Italian craftsmanship – the heritage of Italy's centuries-old yachting tradition.
Established in 1968, the Group is also present in the USA – through its subsidiary Ferretti Group America, which
manages a network of points of sales and dealers specializing in the marketing and sale of the Group's brands
throughout the Americas market – and in Asia, through its subsidiary Ferretti Group Asia Pacific Ltd., based in
Hong Kong, as well as several representative offices and sales centers in Shanghai, Qingdao and other
locations in China.
Moreover, a network of approximately 60 carefully selected dealers guarantees the Group's presence in over
80 countries, thereby ensuring clients receive the very best assistance in marinas all over the world.
The Ferretti Group has always been a leader in the pleasure boating industry, thanks to steady product and
process innovation and the constant search for cutting-edge technological solutions.
The wide range of available boats – flybridge, runabout, open, coupé, lobster boats, maxi and mega-yachts –
is developed by Group's the Strategic Product Committee, the Marketing Department and the Engineering
Department, all fully committed to developing aesthetic and functionally innovative solutions, working in close
cooperation with internationally renowned consulting boat designers
For this reason, all Ferretti Group motor yachts have always distinguished themselves for outstanding quality,
great safety, and excellent performance at sea, as well as for their exclusive design and timeless charm, which
make them stand out in the boating sector worldwide. www.customline-yacht.com
Custom Line
Media Relations Supervisor
Andrea Biondi
Tel. +39 0543.787.511
Email: andrea.biondi@ferrettigroup.com
www.ferrettigroup.com