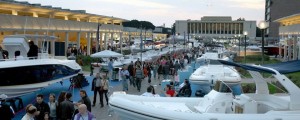 43th Edition of NAUTICSUD. Ribbon cutting on the 27th February 2016 in Naples.
The kermesse will be set for Saturday, February 27th at Mostra d'Oltremare, together with "Associazione Nautica Regionale
Campana (ANRC)".
A fifty years old event, the historic nautical event of southern Italy will take place at Mostra d'Oltremare (an architectural, historic,
cultural site, integrated in the western part of Naples ) where "Associazione Nautica Regionale Campana" is going to set up stand
and shows ( with boats, rafts and accessories ) about the pleasure boats sector. 11000 square meters of covered area and 3000
uncovered too; six wide sheds, ninety-seven exhibitors who have already joined the event managed by "ANRC" still led by Gennaro
Amato.
"The reintroducing of NauticSud is a business need but a moral duty, too. All the italian operators will be at the forefront of this –
Gennaro Amato, Chairperson of ANRC, says – we are inviting all the firms, large and small, active in the pleasure boats sector. We
are trying to raise this historic kermesse again, which has been a reference point in maritime sector for a long time".
This purpose gave birth to the synergy between Associazione Nautica Regionale Campana and Mostra d'Oltremare. The debate
went on for months before involving people from all around the world, which are still waiting for new boats shows, news and
changes about the maritime sector.
"I thank the top brass of Mostra d'Oltremare and their work – Gennaro Amato proudly says – we are glad to invite businessmen and
industry associations to take part in this very-important representation of the "Italian Sailing" in Naples, from 27 February to 6 March".
Donatella Chiodo, chairperson of the exhibition centre, and Giuseppe Oliviero, the council member, have decided to raise this event
again offering nine days dedicated to nautical, shipbuilding, accessories, fishing, tourism and maritime economy.
"Naples and Mostra d'Oltremare – Oliviero says – gained this "brand" again; now we have decided to manage the urban economy
directly. From 27 February to 6 March, nine days with ANRC; next meeting point at the sea: Molo Luise, from 30 March to 3 April".
This is exactly why Nauticsud 2016 will involve all local ports and all those people are involved in maritime tourism." The maritime economy – Donatella Chiodo says – is a key component to Naples marketing plan and for the whole region too. It should be considered as a driving force for development, a new opportunity for young people who are approaching the more and more important business, including all Mediterranean areas".
Print Office ANRC –
www.anrc.it