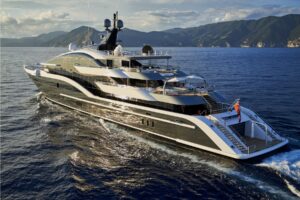 The Oceanco superyacht Dar is offered for charter for the very first time and is a unique yacht with specially designed glazing to ensure guests can enjoy their holiday away from prying eyes.
The nature-inspired interiors are light and bright, with linen-framed doorways, floor-to-ceiling windows, and a cream and soft grey palette throughout.
On the main deck, aside from the large lounge with bar, games area and TV screen, there's a separate fine-dining space, plus a sea-view gym and a spa with sauna, Hammam, and therapy room. The sky lounge, meanwhile, with its sit-up bar and cinema with a library of more than 1,300 films and TV shows, is a slightly more intimate area that nevertheless offers stupendous views through a wall of glass, which through clever design, ensures no one can see in.
DAR yacht can accommodate 12 guests across seven cabins, including an incredible private Master deck with a salon forward and a 360-degree rotating sofa on the aft deck. This private deck also comes with a spa-tub in the grand en suite with ocean views as you bathe, plus its own terrace forward with Jacuzzi, flanked by sunpads, that offers total seclusion.
The rest of the guest accommodation, including two VIPs and four doubles, can be found forward on the main deck.
Outside, the upper deck has a large covered alfresco dining area that is separated from the open-air pool – raised to keep it safe for small children – by the latter's waterfall feature, with sunpads and seating spread liberally around.
Guests can head to the sun deck for some quiet lounging on the round sofas, while for fun-lovers, there's a built-in slide from the Master deck.
Guests waiting to board one of the two custom tenders – one open and one Limo – or who wish to try out some of the vast number of water toys in this RYA centre can either sit by the table on the beach club's deck or wait in the calming lobby inside.
There's no doubt about it, this is a yacht built to impress and will turn heads in the marina, yet guests will never feel their privacy is compromised.