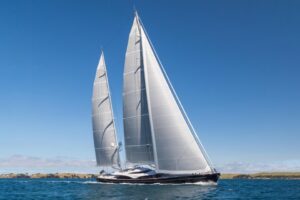 Twizzle is a sailing yacht with an overall length of 57,5 m. The yacht's builder is Royal Huisman from The Netherlands, who launched Twizzle in 2010. The superyacht has a beam of 11,59 m, a draught of 10,8 m and a volume of 496 GT.
Twizzle features exterior design by RWD and interior design by RWD. Up to 9 guests can be accommodated on board the superyacht, Twizzle, and she also has accommodation for 11 crew members, including the ship's captain. Twizzle has an aluminium hull and an aluminium superstructure. She is powered by 1 Caterpillar Inc engine, which gives her a top speed of 13 kn. The yacht carries 44.150 litres of fuel on board.
In the world rankings for largest yachts, the superyacht, Twizzle, is listed at number 593. She is the 7th-largest yacht built by Royal Huisman. Twizzle's owner is shown in SYT iQ and is exclusively available to subscribers. On SuperYacht Times, we have 46 photos of the yacht, Twizzle, and she is featured in 42 yacht news articles.
Twizzle is not for sale, but there are 1.733 other yachts for sale in the world at the moment. It is not yet known whether or not Twizzle has a superyacht infotainment system by YachtEye.