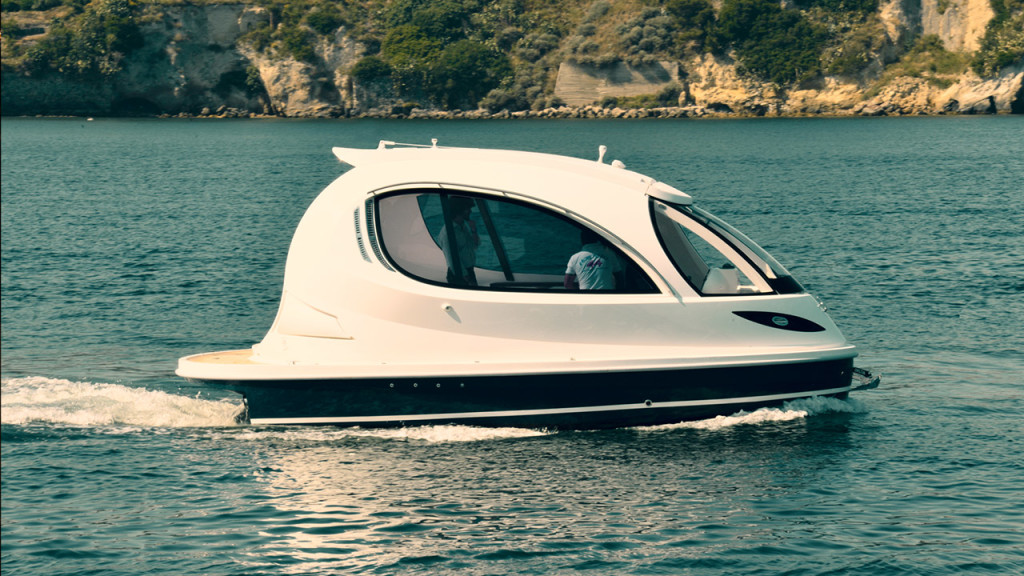 "I wish to introduce Jet Capsule a new Italian shipbuilding company, manufacturer of an innovative boat that we believe can carve out a special place in marine industry and that might be interesting to your business".
The innovative Jet Capsule, which is 7,5 meters (24'6″Ft) long and 3,5 meters wide (11'5″), proposes itself as a "full custom" product; each client may customize it based on his needs and desires. The Jet Capsule customization program allows several configurations, including the one with transformable sofas, the boat taxi with 9 large seats and a luxury version with all comforts.
The Jet Capsule is ideal for passengers transport, patrol boats or any kind of marine forces, scuba diving activities or simply "to have fun".
Several versions are currently under development, also for ambulance and emergency purposes.The Capsule builds-in a last generation hydro-jet system. It can be equipped with one or two engines, petrol or gasoline. The client may select among different versions: from 315 HP to 740 HP, rear automatic closing doors, sunbed, toilet, kitchen and many other features.
"As You can see in our https://www.youtube.com/results?search_query=jetcapsulesite or through the links below, it's really something new, fresh and original with almost unlimited possibilities of development due to our Customize program followed entirely by our designers and engineers and manufactured exclusively in our yards here in Italy."
Here You can find on You Tube some videos:
https://www.youtube.com/results?search_query=jetcapsule