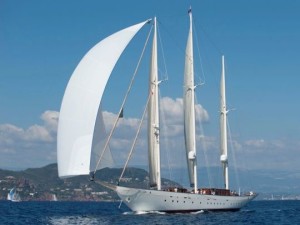 49,90 metres Sailing Yacht. A Spanish captain on board, Diego Massò Alvarez di Gallizia. The boat has five cabins and can accommodate 12 adults. Its speed is 9 knots. It belongs to the Fraser Yacht charter package. The year 2015 is the first charter year and the company has already planned some rentals in August: Naples, Eolie and Milazzo.
Most of the customers come from Switzerland, U.S.A. and Great Britain, mainly families. They have a diving trainer on board. The boat is brand-new and we wait for the current season to discover all the news about the customers and the itineraries.
 PRODUCT SPECS:
MAIN CHARACTERISTICS Type SY Ketch
Length 49.90m (163'09")
Beam 8.55m (28'01")
Draft 4.55m (14'11")
GT 237.00
Hull Steel
Engines 1 x Caterpillar 3406 400BHP
Generators 145KW Stamegna SM1450
145KW Perkins 6TWGM
Speeds 9 (cruising)
Range –
Fuel capacity 20000.00 ltr
ACCOMMODATION Cabins 3 doubles, 2 twins
Guests 12
Crew 8
EQUIPMENT Special features WiFi
CONSTRUCTION Built/Refit 1927/2014
Builder J.S. White & Co
Naval designer JM Soper & Son
Interior designer Barracuda Yacht Design
Classification RINA 100-A.1.1
Flag Panama
DESTINATIONS & PRICES Cruising area & charter price Summer
Western Mediterranean
€95,000/High week
€80,000/Low week
Winter
Western Mediterranean
€95,000/High week
€80,000/Low week
ADDITIONAL DETAILS Communication Equipment – Intellian T110W SAT TV antenna – Fusion MS-AV700i audio system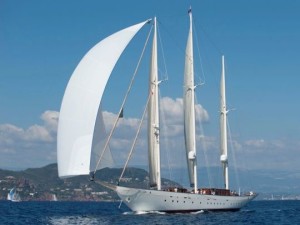 Sailing Yacht di 49,90 metri. Comandante spagnolo a bordo: Diego Massò Alvarez di Gallizia. L'imbarcazione ha cinque cabine e può ospitare fino a 12 persone. Velocità di crociera di 9 nodi. Rientra nel pacchetto charter della Fraser Yacht. Il 2015 è il primo anno di charter e hanno già in programma come noleggi ad agosto: Napoli, Eolie e Milazzo.
La maggior parte dei clienti sono di nazionalità Svizzera, Americana e Inglese; per lo più famiglie. A bordo vantano la presenza di un istruttore di diving.
L'imbarcazione è praticamente nuova ed attendiamo la stagione in corso per scoprire curiosità e novità su ospiti ed itinerari.
Scheda tecnica:
MAIN CHARACTERISTICS Type SY Ketch
Length 49.90m (163'09")
Beam 8.55m (28'01")
Draft 4.55m (14'11")
GT 237.00
Hull Steel
Engines 1 x Caterpillar 3406 400BHP
Generators 145KW Stamegna SM1450
145KW Perkins 6TWGM
Speeds 9 (cruising)
Range –
Fuel capacity 20000.00 ltr
ACCOMMODATION Cabins 3 doubles, 2 twins
Guests 12
Crew 8
EQUIPMENT Special features WiFi
CONSTRUCTION Built/Refit 1927/2014
Builder J.S. White & Co
Naval designer JM Soper & Son
Interior designer Barracuda Yacht Design
Classification RINA 100-A.1.1
Flag Panama
DESTINATIONS & PRICES Cruising area & charter price Summer
Western Mediterranean
€95,000/High week
€80,000/Low week
Winter
Western Mediterranean
€95,000/High week
€80,000/Low week
ADDITIONAL DETAILS Communication Equipment – Intellian T110W SAT TV antenna – Fusion MS-AV700i audio system