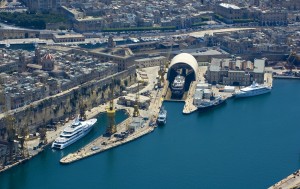 Palumbo started working as a small carpentry in 1967. Today the company is based on four different departments and five offices (one more in Monaco) and it represents the best place for maintenance and refit in the whole Med.
The company can count on a team of professionals to satisfy their clients through a wide array of services: sale and after-sale assistance in a wide infrastructure network – Palumbo Superyachts – in the heart of the Med (Naples, Messina, Malta, Marsille). Today PSY can lean on a great customer portfolio and it works with the biggest figures in the maritime world.
Furthermore, Palumbo Group S.p.A. works on shipbuilding off-shore drilling and rental crane service.
Palumbo Group has recently announced the acquisition of its fifth shipyard in Tenerife (Canary Islands, Spain) which represents a good way to let Palumbo Superyachts assert themselves also outside the Med. Palumbo Messina and Palumbo Naples are focused on shipbuilding, fixing, and changes of all types of boat and cruise ship.
They work in accordance with the requests of the shipowners and clients, with a 50 year experience and tradition. They use the most advanced technologies and knowledge in the shipbuilding also thanks to their team of experts in engineering and the cooperation with some of the most important design companies in the world (Hydrotech, Marco Casali and Vafiadis).
There are different unities such as the M/Y DIVINE, Winner of the Superyachts Award 2016 in the Semi-Displacement&ThreeDeck 30m – 40.9m category
Thanks to its design, inside and outside, the spaces full of light, M/Y DIVINE by Columbus Yachts has grabbed the attention of the jury at Boat International. Lastly, and again, with a perfect sea resistance and a great fuel efficiency (thanks to the electric-diesel propeller) this 40.1m yacht is a winning unity.
The 70m Oceanic Classic is now under construction at the Neapolitan Shipyard. Made up of steel and aluminium and designed by the Viafadis studio and associates, this wonderful superyacht is one of the biggest yacht in the world and built without any customer request.
Its stylish lines and special features let it has a pool on the bow, a wide beach club, gym and a great stateroom. With a 5.000NM (@11 knots) range and maximum speed 18 knots, Columbus Oceanic shows off an awesome design as good as enviable performances.