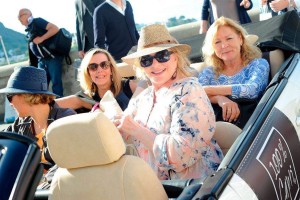 A great success for the IV Edition of the event "By Tourist on The Sea", designed by Luisa Del Sorbo and his team at By Tourist L.t.d. in partnership with Luise Group to promote the Campania coast improving the charter business. Fam trip, cruises and b2b sailing through Positano, Capri, Amalfi, Castellammare di Stabia and Naples. Exclusive itineraries at Medieval Castle in Castellammare di Stabia, Palumbo Shipyard in Naples in the great company of Michelin-starred chefs. Party and dinner at "Bulgari Naples" with the starred chef Paolo Gramaglia and his recipes of the Old Pompeii. Natural beauty, itineraries on board the gulet "Silver Star" and some boat from "Plaghia Charter" and "Gruppo Battellieri" Amalfi; cultural routes, fine cooking thanks to the chefs Mellino from the restaurant "I 4 Passi", Dipino from the restaurant "La Caravella", team "Da Paolino" in Capri and "Palazzo Petrucci" in Naples. "Bulgari and Champagne" with jewels and tradition at the seat of Bulgari in Naples, with the chef Paolo Gramaglia. Journalists in the world of Yachting and Charter brokers from the most important companies in the world (USA, England, France, Monaco and Germany).
"We are ready to organise the second stage of the event – Luisa Del Sorbo, member of the company By Tourist, says – scheduled for 7-10 November for Superyacht Captains, in partnership with Italian Yacht Masters, Marina Molo Luise".
The Captains will have the opportunity to attend professional training courses and fam trip enjoying the Protected Marine Area Punta Campanella, wellness points, well-known shipyards with ANRC and the most important marinas in Campania; the "boutique" port in Capri and Marina Molo Luise in Naples Mergellina, the only dock for Superyacht in Naples.
"We will count on international partnership in the yachting world such as Luise Group, OceanoMare, Versilia, Supply Service, Italian Yacht Masters and Palumbo Shipyard – Luisa Del Sorbo says – and some of the most professional captains will be awarded, thanks to their waving of the Italian flag around the world".